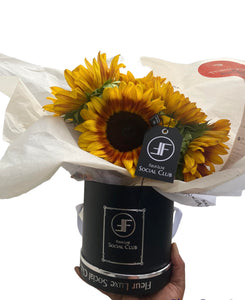 Arrangement Includes: 4-6 ranging medium sized flowers total in deep natural shades of red, brown, and yellow. This arrangement arrives cased inside of our signature Fleur Luxe Social Club paper flower box containers. Boxes are sustainable Eco-friendly non-toxic disposal and are great for recycling to use for future arrangements.

Should last anywhere between 2 to 3 weeks depending on temperature of room they are kept in and care giving. Glass vase and flower food included within your order.

Schedule your delivery date or time preference with us at FLEURLUXESOCIALCLUB@GMAIL.COM OR by placing your order on DOORDASH.

Available for Delivery! on Doordash & Grubhub.
DOORDASH LINK: https://www.doordash.com/store/fleur-luxe-social-club-san-francisco-23028302/
GRUBHUB LINK: https://www.grubhub.com/restaurant/fleur-luxe-social-club-95-third-st-second-floor-san-francisco/4627296